If your school could be more effective, efficient, and engage parents, teachers and students more, would it be worth 10 minutes of your time to discuss?
10 minutes is all it takes to pinpoint key areas of your school processes that will benefit from improvements.
5 Steps to Transformation
Years of helping K-20 means that we understand what schools need to transform today. Transforming your school to stay ahead of the curve starts with:
Uncovering the critical needs of your institution
Defining your technical roadmap to success
Honing in on the best software tools to accomplish these goals
Developing a proof of concept and demonstrating software solutions
Training key stakeholders in the use of new software solutions and processes
7 Typical Areas of Improvement
For marketing, recruitment, and both student & professional development
Marketing automation to nurture leads and improve recruitment
Online forms to eliminate paper-based submissions and tedious administration
Cloud-based learning management to centralize materials, grading and increase engagement
An LMS for on-going faculty development that can be taken anytime and anywhere
Tools for the "flipped classroom" where video teaching and peer interaction is increased
Student information system to collect, manage and analyze all student information
Cloud-based content management system to improve marketing & communications
Happy Customers
Solomon Schechter Day School of Bergen County
In northern New Jersey, this K-8 private school with approximately 450 students, equips its students to compete in tomorrow's challenging global environment.
When SSDS realized that they needed to update and upgrade their use of technology they chose our group to help them with this task. Since then, we have played the key role in strategically bringing cloud-based software solutions into use to upgrade their marketing, communication, and recruitment efforts. For 2014/15 we have been chosen as their primary consultant in evaluating and implementing their learning management system for professional development.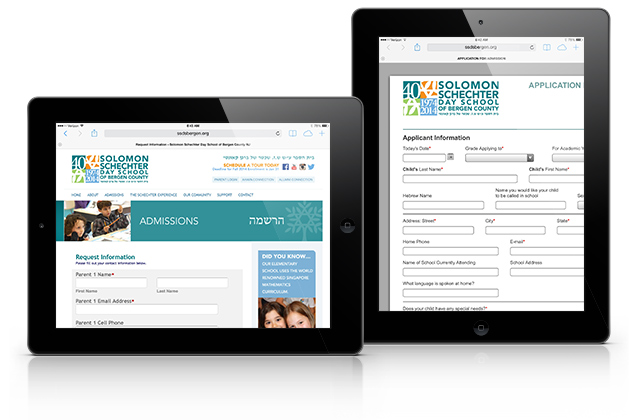 Frank Sinatra School of the Arts
In Astoria New York, this high school with approximately 750 students was founded by Tony Bennett & his wife Susan.
When FSSA realized that they needed to upgrade their use of online technology they chose our group to help them with implementing a new public facing website. We then played the key role in strategically bringing cloud-based software solutions into use for their content management system.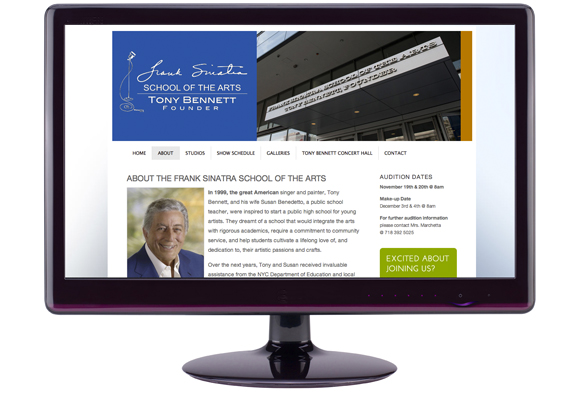 L-3 Academy
In Montclair, this school is dedicated to supporting and promoting STEM for school aged children in Northern NJ.
When L-3 Academy needed to get the word out about their new school, they asked us to handle their marketing collateral. We then played the key role in developing both online and print ads as well as direct mail pieces.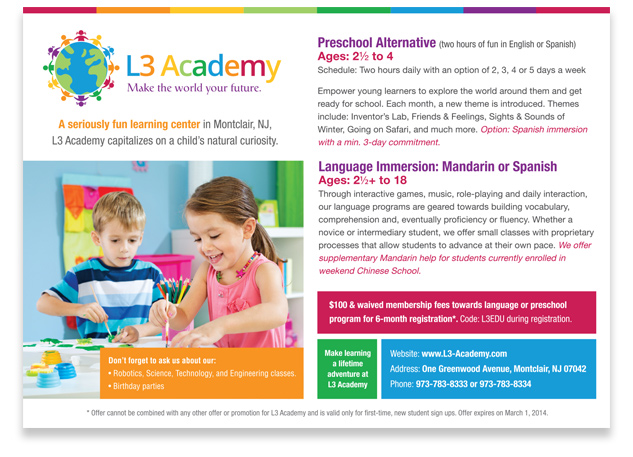 School of Visual Arts (SVA)
In NYC, this internationally known art school with approximately 4,000 students, is an art and design college located in Manhattan, founded in 1947.
When SVA needed a professional to teach its students how to use design software, they asked Daron Rosenberg to develop teaching materials and to teach their students in both Adobe Photoshop and Illustrator.

If you are involved with a school or any education related organization, contact us to discuss ways that we can help you improve your marketing and communication efforts.